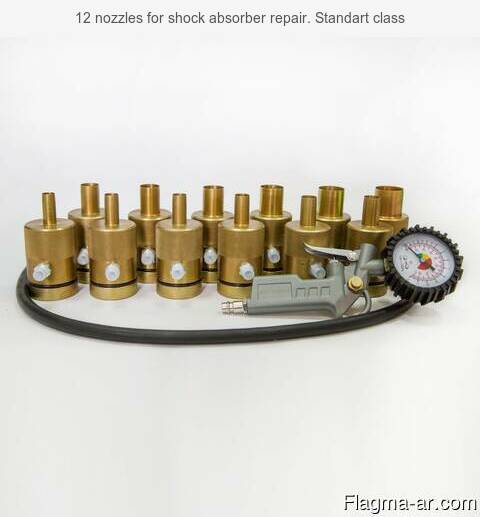 12 nozzles for shock absorber repair. Standart class
12 special nozzles allow you to restore the factory characteristics of shock absorber struts according to the technology of the manufacturer. The procedure can be carried out repeatedly.
Equipment capabilities
To pump gas (nitrogen) into the rack (shock absorber) – indiscriminately.
Add oil to the rack (shock absorber) – indiscriminately.
Change the oil in the rack (shock absorber) – indiscriminately.
Package bundle
12 special nozzles of the premium class;
Pressure gauge;
The high pressure hose;
Necessary adapters;
Instruction.
Available sizes of nozzles that fit all possible diameters of shock absorber rods:
11 mm, 12.5 mm, 13 mm, 14 mm, 15 mm, 16 mm, 18 mm, 20 mm, 22 mm, 25 mm, 28 mm, 30 mm.
The principle of operation of the equipment
The shock absorber strut is designed in such a way that by injecting gas into the inside of the cylinder, we increase the internal pressure, which extrudes the rod and expands the gland from the inside. The result is increased tightness of the structure.
Thanks to the equipment you can:
Pump nitrogen into the shock absorber without disassembling it;
Add oil to the hydraulic system of the shock absorber strut;
Perform a complete oil change without laborious debriefing.
Also, the equipment makes it possible to monitor the level of oil pressure in the shock absorber strut, timely detect damage and eliminate them. Thanks to this, the motorist saves on overhaul and ensures a comfortable and safe ride, and the service station get additional profit.
Обновлено: 20 мая 2020, 09:04
просмотров: 25